EFM 2: The Low Budget Solution
Features at a glance: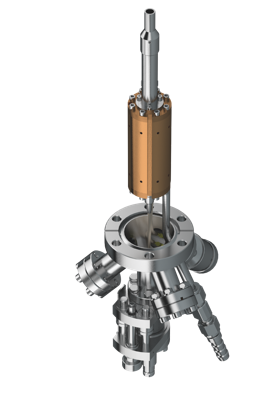 Evaporation area 4-20 mm
Cost-effective
No flux monitor
No shutter
upgradeable (flux monitor and shutter)
Crucible capacity up to about 700 mm3
Mounting flange NW 35 CF
All other features same as EFM 3

For a quick check of all technical features please refer to the survey table and for the major dimensions to the related technical reference drawing.

The EFM 2 is a low budget basic version of the EFM 3. It features the same proven capabilities in terms of cooling concept, purity, evaporation area, temperature range, reliability, quality, etc. as the EFM 3, but without the shutter and flux monitor.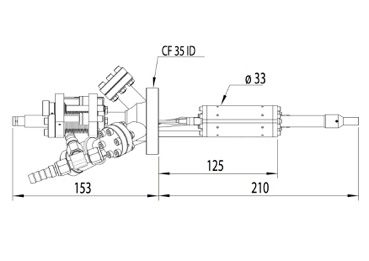 The dedicated EVC 100 L electronics is a robust analogue supply with 100 W output power and emission regulation for stable growth conditions.
Together both add up to a cost-effective evaporator package to cover the same material range as the EFM 3.
Shutter and flux monitor can easily be factory retrofitted. The EFM 2 accepts the same crucible sizes as the EFM 3. Also included is the z-shift for material feed when using rods or simply to optimize the distance between the electron source and the material to be evaporated either from a rod or crucible.
To fit low budget situations the EFM 2 is best combined with the power supply EVC 100L. The EFM 2 can be combined with all EVC power supplies too: EVC 100L, EVC 100s, EVC 300, EVC 300s and EVC 300i.
Please refer to the electronics page.
For more information see the related brochure.