EFM 3: The classic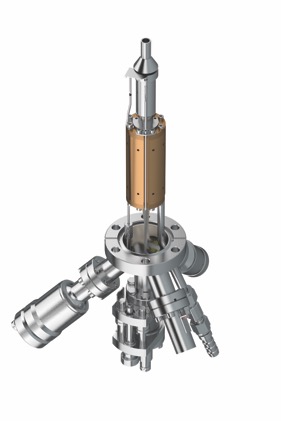 Features at a glance:
Ultra-pure evaporation*
Temperature range: 100° C – 3500° C*
Fully bakeable up to 250°C*
Evaporation area 4-20 mm
Z-shift for material feed*
Rear-loading of evaporant*
Water cooling for minimum pressure rise*
Evaporation from rods and crucibles*
Integrated shutter
Flux monitor
Mounting flange NW 40 CF
* These features are valid for all evaporators of the EFM product range.

For a quick check of all technical features please refer to the survey table and for the major dimensions to the technical reference drawing in our brochure .


As the very first family member the EFM 3 is designed for thin film growth and molecular beam epitaxy. Sub-monolayer and multilayer systems can be produced with evaporation rates varying from 1/10 monolayer per minute to several monolayers per second.
The precisely defined evaporant beam profile allows highly uniform deposition on the sample (ref. to graph on parameters page).
The deposition area is determined by the choice of three different easily exchangeable exit apertures and the distance from the source to the sample. Integral part of the EFM 3 is a z-shift for material feed when using rods or simply to optimize the distance between the electron beam filament and material to be evaporated either from a rod or crucible.
The integrated flux-monitor and the shutter allow for a precise reproducibility of previously applied evaporation rates before the sample is exposed to the evaporant (even with shutter speed closed).
In combination with the EVC 300/300s the flux monitor signal can be used to fully control the evaporation process by the integrated flux regulation.
The EFM 3 can be combined with all EVC power supplies: EVC 100L, EVC 100s, EVC 300, EVC 300s and EVC 300i. All the above holds for the entire product range in general. Please refer to the electronics page.
For more information see the related brochure.