EFM 4: For large Samples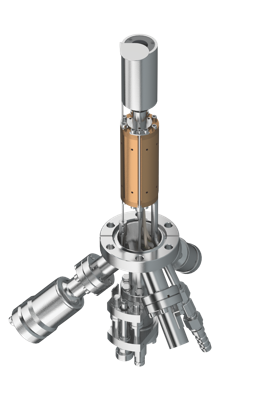 Features at a glance:
Evaporation area Ø 10 – 50 mm
Flux monitor
Integrated shutter
Crucible capacity up to about 700 mm3
Mounting flange NW 35 CF
All other features same as EFM 3
For a quick check of all technical features please refer to the survey table and for the major dimensions to the technical reference drawing in our brochure .

The EFM 4 provides the same features as the EFM 3 but is intended for the deposition on substrates with a larger diameter up to about 50 mm.

The three different exit apertures allow to adapt the evaporation area exactly to the size of the sample. Evaporation rates varying from 1/10 monolayer per minute to over 1000 monolayers per second can be achieved by selection of the appropriate crucible and e-beam power.


The EFM 4 is suitable for crucible capacities up to 700 mm3.
The effective water-cooling ensures low background pressure (typically in the 10-10 mbar range) even during prolonged operation at high evaporant temperatures.
Due to the larger evaporation areas being targeted the operation of the EFM 4 with the EVC 300 power supply is the most suitable configuration.
Please refer to the electronics page.
For more information see the related brochure.