EFM 3Ts: Three sources at once with Ion suppression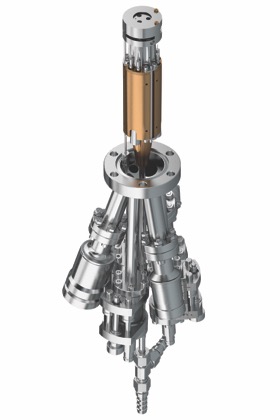 Features at a glance:
Evaporation area Ø 8.5, 11 and 15 mm
Working distance 93 mm (± 10 mm)
3 independent cells/filaments/ flux monitors
No crosstalk during compound growth
Flux monitor
Integrated multi-position shutter
Ion suppressor ( neutral evaporant beam )
Mounting flange NW 35 CF
All other features same as EFM 3.

For a quick check of all technical features please refer to the survey table and for the major dimensions to the technical reference drawing in our brochure .

The EFM 3Ts adds an additional electrode to the EFM 3T. To generate a 100 % neutral beam a voltage is applied at the exit of the EFM 3Ts which acts as an ion suppressor.
A part of the evaporant beam in all products of the EFM-series is ionized by the electron bombardment during heating. Most of these ions are captured by the flux monitor electrode. As the evaporant is on high voltage with respect to the grounded sample the remaining ions may create defects in the substrate surface and deposit energy.
The additional voltage is supplied by the power supply EVC 300s or EVC 100s. In case of co-evaporation each material requires a separate power supply. Only one of these needs to have the s-configuration (EVC 300s, EVC 100s). Please refer to the electronics page.
For more information see the related brochure.