EFM 3s: Suppressing ions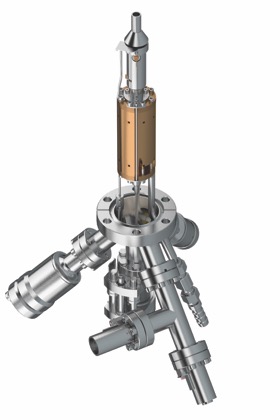 Features at a glance:
Evaporation area 4-20 mm
Flux monitor
Integrated shutter
Ion suppressor (neutral evaporant beam)
Crucible capacity up to about 700 mm3
Mounting flange DN 40 CF
All other features same as EFM 3
For a quick check of all technical features please refer to the survey table and for the major dimensions to the technical reference drawing in our brochure.
The EFM 3s adds an additional electrode to the EFM 3. A part of the evaporant beam in all products of the EFM-series is ionized by the electron bombardment during heating. Most of these ions are captured by the flux monitor electrode.
As the evaporant is on high voltage with respect to the grounded sample the remaining ions may create defects in the substrate surface and deposit energy.
To generate a 100 % neutral beam an additional voltage is applied at the suppressor electrode of the EFM 3s.
The additional voltage is supplied by the power supply EVC 300s or EVC 100s. Please refer to the electronics page.
Upgrade packages for existing EFM 3 are available on request. All other features of the EFM 3 are fully preserved.
For more information see the related brochure.